Measureable Results
Personal and Organizational Quality Assessment (POQA)
The HeartMath® Personal and Organizational Quality Assessment (POQA) is an assessment of workplace quality, based on a survey questionnaire gathering self-report information on socio-demographic and key psychological and workplace elements contributing to overall quality and effectiveness of an organization. The assessment utilizes an empirically validated conceptual framework, based on 52 questions classified into 4 major scales of work-place quality which directly affect health and job performance: Emotional Vitality, Emotional Stress, Physical Stress and Organizational Stress. 10 or more participants are required for a valid POQA. Pre and post surveys provide illustration of differences or percentage of change post training. Statistically significant reporting requires pairing or identification of participants. Only aggregate reports and requested subgroup analytics of participants are provided to the organization. Individual reports are available upon request for participant view.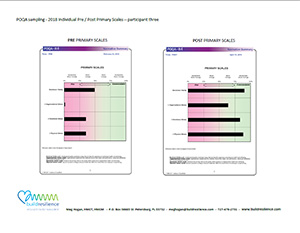 Sample Client Personal and Organizational Quality Assessment results pre and post coaching (six weeks), showing primary and sub scales:
Stress and Well-being Assessment (SWBA)
The HeartMath® Stress and Well-being Assessment (SWBA), is offered when coaching individuals, to provide a comprehensive picture of current levels of stress, well-being and resilience. A 72-question assessment with 12 individual scales - eight related to stress and four focusing on well-being and resilience – can identify areas of stress you may not be aware of. This assessment tool can help us customize our focus on topics and techniques that will benefit you the most. The SWBA can offer a detailed understanding of your challenges, enabling us to identify the most significant areas of stress. This insight can assist us in creating a framework to make our time together more effective and set achievable goals, while tracking your progress along the way.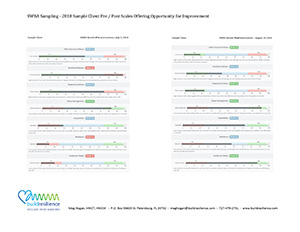 Sample Client Stress & Well Being Assessment results pre and post coaching (six weeks), showing scales that offered opportunity for improvement: